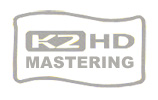 Out of Print! Limited Supplies Available!
24-Bit/100kHz Mastering on a 99.9999% Silver Disc! This K2 HD Mastering CD will play on ALL CD players!
This recording has been mastered by the new K2 HD format of 24-bit 100kHz, which creates an unbelievable sound surpassing other formats!
Infinitely versatile, Salena Jones is acknowledged as one of the finest singers performing on the world stage of jazz and swinging music.
"Ballads With LUV remastered in JVC's studios using K2HD process had been originally recorded on an analog tape... The sound is very rich and intimate."
- Wojciech Pacula, www.highfidelity.pl , Sound Quality 9-10/10
The benefits of K2 HD Mastering:
• Ambience of Analogue Sound
• Higher Resolution
• Lower Distortion
• Richer Sound Field
• Master-Tape Quality Sound
• Delivers what musicians originally intended!
Features:
• K2 HD 100kHz / 24-bit Mastering
• Beautifully packaged
• 99.99% Fine Silver disc
• Playable on ALL CD Players!
Selections:
1. Bridge Over Troubled Water
2. Feelings
3. I Can See Clearly Now
4. You Light Up My Life
5. An I Love You So
6. The Way We Were
7. Fate Playing a Game
8. My Everyday
9. Did You Know?
10. My Way
Total playing time, 40:05