Limited Edition K2 HD Mastering Japanese Import CD!
24-Bit/100kHz Mastering! This K2 HD Mastering CD will play on ALL CD players!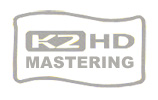 This recording has been mastered by the K2 HD format of 24-bit 100kHz, which creates an unbelievable sound surpassing other formats!
The Platters deliver an astonishing set of hits from the 1950s and '60s on this compilation album of their very best tracks. Among the 12 tracks are "The Great Pretender", "I'm Sorry", and "Smoke Gets In Your Eyes".
Features:
• Limited Edition
• K2 HD 100kHz / 24-bit Mastering
• Made in Japan
Selections:
1. The Great Pretender
2. My Prayer
3. (You've Got) The Magic Touch
4. On My Word of Honor
5. Twilight Time
6. You'll Never Never Know
7. Only You (And You Alone)
8. I'm Sorry
9. Smoke Gets In Your Eyes
10. If I Didn't Care
11. Enchanted
12. Harbor Lights