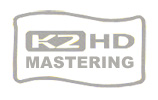 Out of Print! Only a few copies available!
24-Bit/100kHz Mastering! This K2 HD Mastering CD will play on ALL CD players!
This recording has been mastered by the new K2 HD format of 24-bit 100kHz, which creates an unbelievable sound surpassing other formats!
This is the best solo saxophone with organ recording in the world in terms of performance and sonic excellence. Period.
The benefits of K2 HD Mastering:
• Ambience of Analogue Sound
• Higher Resolution
• Lower Distortion
• Richer Sound Field
• Master-Tape Quality Sound
• Delivers what musicians originally intended!
Features:
• K2 HD 100kHz / 24-bit Mastering
• Beautifully packaged
• Playable on ALL CD Players!
Musicians:
Arne Domnerus, saxophone
Gustaf Sjokvist, organ
Selections:
1. Traumerei
2. Sometimes I Feel Like a Motherless Child
3. Antiphone Blues
4. Nobody Knows the Trouble I've Seen
5. Jog Vet En Dejlig Rosa
6. Entonigt Klingar Den Lila Klockan
7. Heaven
8. Come Sunday
9. Den Signade Dag
10. Almighty God
11. Largo
Total Time: 35:21