Click Here for Sound Samples!
Numbered, Limited Edition! Very Limited Quantities!
Only 1,000 Numbered Copies Available!

24-Bit/100kHz Mastering! This K2 HD Mastering CD will play on ALL CD players!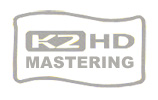 This recording has been mastered by the K2 HD format of 24-bit 100kHz, which creates an unbelievable sound surpassing other formats!
Greatest Hits Vol. II is the third English greatest hits album released by American singer Gloria Estefan, but is the fourth compilation and twenty-third album overall, released in 2001. The album includes most of her English hits from 1994's Hold Me, Thrill Me, Kiss Me up to the then-recent Gloria! (1998).
"If We Were Lovers" is the English version of Estefan's hit Spanish single, "Con Los Años Que Me Quedan", released from her first Spanish album Mi Tierra. Due to its UK success, this English version firstly appeared on this best-of album.
The compilation has four new songs, three of which became singles: "You Can't Walk Away from Love" which featured on the 2001 film Original Sin starring Antonio Banderas and Angelina Jolie; "Out of Nowhere," a heavy dance tune released as a single and "Y-Tu-Conga," a remix of Estefan's popular single "Conga." "I Got No Love" which is probably Estefan's only R&B song, remained unreleased.
"All in all, this is a fine greatest-hits album, almost superior to her first, with classy ballads, great pop songs, and high-energy dance numbers."
-Jose F. Promis, allmusic.com
Features:
• Numbered, Limited Edition (Only 1000 Copies)
• K2 HD 100kHz / 24-bit Mastering
• Made in Japan
• Includes Clear Protective Outer Sleeve


| | |
| --- | --- |
| | 1. Turn The Beat Around (Classic Mix) |
| | 2. Everlasting Love (Video Version) |
| | 3. Reach |
| | 4. If We Were Lovers |
| | 5. You'll Be Mine (Party Time) (Single Mix) |
| | 6. Heaven's What I Feel |
| | 7. Hold Me, Thrill Me, Kiss Me |
| | 8. I'm Not Giving You Up |
| | 9. Music Of My Heart |
| | 10. Oye |
| | 11. You Can't Walk Away From Love |
| | 12. Out Of Nowhere |
| | 13. I Got No Love |
| | 14. Y-Tu-Conga |