Click Here for Sound Samples!
Numbered, Limited Edition! Very Limited Quantities!
Only 1,000 Numbered Copies Available!
24-Bit/100kHz Mastering! This K2 HD Mastering CD will play on ALL CD players!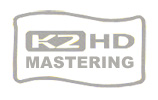 This recording has been mastered by the K2 HD format of 24-bit 100kHz, which creates an unbelievable sound surpassing other formats!
The Concerto for 2 Violins, Strings and Continuo in D Minor, BWV 1043, also known as the Double Violin Concerto or "Bach Double", is perhaps one of the most famous works by J. S. Bach and considered among the best examples of the work of the late Baroque period. Bach wrote it between 1717 and 1723 when he was the capellmeister at the court of Anhalt-Köthen, Germany. The concerto is characterized by the subtle yet expressive relationship between the violins throughout the work. The musical structure of this piece uses fugal imitation and much counterpoint.
The Sinfonia Concertante for Violin, Viola and Orchestra in E-flat major, K. 364 (320d), was written by Wolfgang Amadeus Mozart. At the time of its composition in 1779, Mozart was on a tour of Europe that included Mannheim and Paris. The composition's complex orchestral dynamics reflects the increasing technical competence of the European orchestra of that era and was strongly influenced by the Chevalier de Saint-George; whom he met while in Paris and whose Concerto for Violin and Orchestra Op. 5, No. 2 Mozart quoted in the final movement; as well as by Mozart's visit to the Mannheim court orchestra during his European tour of 1777 to 1779. Mozart had been experimenting with the sinfonia concertante genre and this work can be considered his most successful realization in this cross-over genre between symphony and concerto.
The Double Concerto in A minor, Op. 102, by Johannes Brahms is a concerto for violin, cello and orchestra. The Double Concerto was Brahms' final work for orchestra. It was composed in the summer of 1887, and first performed on 18 October of that year in the Gürzenich in Köln, Germany. Brahms approached the project with anxiety over writing for instruments that were not his own. He wrote it for the cellist Robert Hausmann, a frequent chamber music collaborator, and his old but estranged friend, the violinist Joseph Joachim. The concerto was, in part, a gesture of reconciliation towards Joachim, after their long friendship had ruptured following Joachim's divorce from his wife Amalie. (Brahms had sided with Amalie in the dispute.)
The concerto makes use of the musical motif A-E-F, a permutation of F-A-E, which stood for a personal motto of Joachim, Frei aber einsam ("free but lonely"). Thirty-four years earlier, Brahms had been involved in a collaborative work using the F-A-E motif in tribute to Joachim: the F-A-E Sonata of 1853.
Features:
• Numbered, Limited Edition
• K2 HD 100kHz / 24-bit Mastering
• Made in Japan
• Includes Clear Protective Outer Sleeve
Musicians:
Jascha Heifetz, violin
Tracks 1-3:
Erick Friedman, violin
New Symphony Orchestra of London
Sir Malcom Sargent, conductor
Tracks 4-6:
William Primrose, viola
RCA Victor Symphony Orchestra
Izler Solomon, conductor
Tracks 7-9:
Gregor Piatigorsky, cello
RCA Victory Symphony Orchestra
Alfred Wallenstein, conductor


| | |
| --- | --- |
| | Johann Sebastian Bach (1685 - 1750) |
| | Concerto in D Minor for Two Violins, BWV 1043 |
| | 1. Vivace |
| | 2. Largo ma non tanto |
| | 3. Allegro |
| | Wolfgang Amadeus Mozart (1756 - 1791) |
| | Sinfonia concertante in E-Flat, K. 364 |
| | 4. Allegro maestoso |
| | 5. Andante |
| | 6. Presto |
| | Johannes Brahms (1833 - 1897) |
| | Concerto in A Minor for Violin and Cello, Op. 102 |
| | 7. Allegro |
| | 8. Andante |
| | 9. Vivace non troppo |