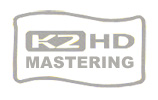 Out of Print! Limited Supplies Available!
24-Bit/100kHz Mastering! This K2 HD Mastering CD will play on ALL CD players!
This recording has been mastered by the new K2 HD format of 24-bit 100kHz, which creates an unbelievable sound surpassing other formats!
The New Philharmonia Orchestra, conducted by Rafael Fruhbeck de Burgos, performs works by composers Manuel de Falla, Ravel and Granados.
"... I was very surprised. K2 The sound of HD was like the master tape. Amazing sound ...."
- Satoru Murayama, President, Oyaide Elec, Inc., Japan
The benefits of K2 HD Mastering:
• Ambience of Analogue Sound
• Higher Resolution
• Lower Distortion
• Richer Sound Field
• Master-Tape Quality Sound
• Delivers what musicians originally intended!
Features:
• K2 HD 100kHz / 24-bit Mastering
• Beautifully packaged
• Playable on ALL CD Players!
Musicians:
Nati Mistral
The New Philharmonia Orchestra
Fruhbeck De Burgos, conductor
Selections:
Enrique Granados (1867-1916)

1. Intermezzo from "Goyescas
Manuel De Falla (1876-1946)
El Amor Brujo

2. Introduction and Scene
3. Song of Suffering Love
4. The Phantom
5. The Magic Circle
6. Ritual Fire Dance
7. Scene
8. Song of the Will-o'-the-wisp
9. Pantomine
10. Dance of the Game of Love
11. Finale
Maurice Ravel (1875-1937)

12. Pavana Pour Une Infante Definte
13. Alborada del Gracioso
Total playing time, 44:00